Our Scenic Rim wineries are presented here in random order.
Please see the Maps/GPS page for the printable Wine Trail Map.
Cellar Door Information 
Five of our wineries have cellar doors where you can taste and purchase local wines.
These wineries are:
Ironbark Ridge Vineyard at Purga outside Ipswich
Paradine Estate Wines at Harrisville
Bunjurgen Estate Vineyard near Mt. Alford near Boonah
Kooroomba Vineyard near Mt. Alford near Boonah
Flinders Peak Winery near Peak Crossing
Normanby Wines sell their wines by mail order and online.
Welgan Estate Wines sell their wines by mail order.
Barney Creek Vineyard's wines are part of the accommodation package.
The Overflow 1895 sells their wines online and by mail order. The cellar door will be opening soon.
You can also buy Scenic Rim wines at local shows and fairs in the region.
The Overflow 1895
Online and mail order sales only. Cellar door opening soon.
"The Overflow 1895" is a famous cattle property formerly belonging to the Joyce dynasty. Six generations managed the property before it was finally sold to the Usher family and the Morgan family in 2006.
The 4000 acres have waterfront access to the magnificent Wyaralong Dam. The waterline extends for some 11 kilometers.
"The Overflow 1895" vineyard has been established on a 20 hectare island in the dam. The climate, soil structure and general terroir are highly reminiscent of the premier wine producing regions of Italy and Spain.
The viticulturists have concentrated on four varieties. Vermentino and Fiano are splendid Italian white varieties and are complemented by Montepulciano, the king of D'Abruzzo. Tempranillo from the north of Spain rounds out the offerings.
This magnificent location offers unparalleled scenic opportunities, water sports such as sailing, canoeing and fishing, and also boasts magnificent stables with thoroughbred horses.
"The Overflow 1895" is the most recent addition to the Scenic Rim winery fraternity and will become a favourite site on the winery tour schedule. The door of welcome will be open to all.
1660 Beaudesert-Boonah Road, Beaudesert 4685.
The Overflow Estate 1895 sells wine online.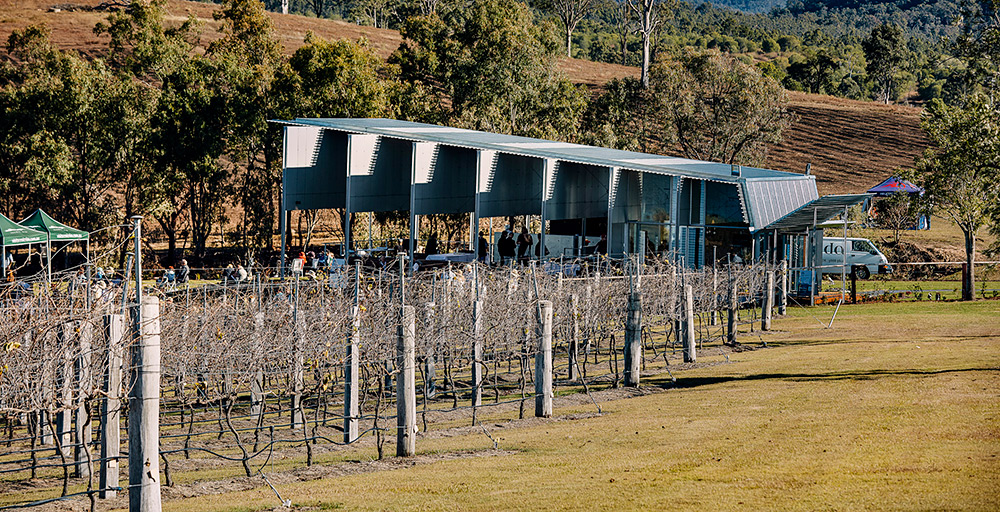 Paradine Estate Wines
Cellar door open Saturday, Sunday and public holidays 10am to 4.00pm, and by appointment during the week.
Just 45 minutes south west of Brisbane and 90 minutes from the Gold Coast, Paradine Estate Wines is nestled at the top of the hill at Harrisville village, overlooking the working vines and beautiful surrounds of the Scenic Rim.
Taste exquisite wines in the "Old Barncellar" door that has been lovingly restored with 360 degrees breathtaking views.
Relax on the wonderful veranda or amongst the vines and enjoy country style hospitality, the views, the great wines and the delightful platters.
Take advantage of the ever developing gardens, lawns, walks, quiet areas, and function facilities for your next private function, and talk to helpful staff about your requirements.
All our grapes are hand picked for quality and new varieties are being developed.
Award winning wines grown at Paradine include Cabernet, Mourvedre and Durif.
Available for Functions
Fruit Relishes and Jams
Antipasto Platters
Our own chocolates
Disabled toilets
Coach parking
38 North St, Harrisville, Qld 4307.
Barney Creek Vineyard's wines are available by mail order and online and also as part of the accommodation package.
We are a small imaginative vineyard in South East Queensland. We have 1,000 vines planted on 1 ½ acres of ridge top with one side sloping steeply into the upper reaches of the Logan River and the other side facing Mt Barney Creek, and with a backdrop of mountains of the southern Border Ranges. The panoramic view is awe-inspiring.
We produce approximately 2,000 bottles of wine a year, predominately from our own grapes. Fifty percent of the vineyard is planted with Petit Verdot, a little known grape which is well suited to our warmer climate and conditions. Three rows of Shiraz give us classic flavour for dry reds, rose and sparkling. Four rows of Mouvedre (Mataro) make a traditional blend with Shiraz along with the half row of Grenache. Finally, a recent planting of Tannat should give us a very small amount of intensely flavoured wine with strong tannins.
We also have a white wine in the range (currently Verdelho) made for us by wine maker, Jason Hannay from grapes sourced in SE Queensland.
Our tasting room is available to cottage guests, although pre-arranged tastings can be organised for small (minimum of 4) to mid-size groups of non-guests.
Barney Creek Vineyard Cottages has been offering guests secluded accommodation in three beautifully adorned cottages in a world heritage region for over 13 years. The cottages include the Lakeside Bungalow, the Hill and the Garden Cottage. All the cottages have full kitchens and barbeques for those who wish to self-cater, along with woodfired heaters, CD and DVD players and a selection of music, movies, games and reading material.
Enjoy quiet walks, birdwatching, swimming, fishing, spying the platypus at play or walk to the hilltop & watch the sun set on Mt Barney.
Seidenspinner Road, Barney View, Queensland 4287.
Ironbark Ridge Vineyard
Cellar door open Tuesday to Sunday and public holidays 10am to 5pm.
Ironbark Ridge Vineyard is situated at Purga, south west of Ipswich and is approximately 40 minutes drive from Brisbane. Ironbark Ridge is surrounded by picturesque mountain views.
The Ipswich District has a rich history in grape-growing and wine making during the 19th and 20th centuries. The district's first wines made by Robert Le Grand are well recorded as being highly acclaimed in Europe in the 1890's. The Dick family received many awards from France in the early 1900's.
Ironbark Ridge was established in 1984. It is the oldest established vineyard in this region. Ironbark Ridge currently has 6 acres under vine with plantings of Chardonnay, Shiraz and Grenache and also smaller parcels of Marsanne, Rousanne and Viognier. In addition there are also new plantings of Dolcetto, Verdelho and Nebioli.
All the vines at Ironbark Ridge were hand planted and are also hand picked. Ironbark Ridge produces many Award Winning Wines, including Chardonnay, Shiraz, Shiraz Grenache blend, shiraz, Grenache & Dolchetto blend, & vintage port. The historical tasting room built in early 1900's was originally a miners cottage and now offers cellar door tastings and sales along with a selection of cheeses, olives and coffee.
The cellar Door facility also has a range of memorabilia of Ironbark Ridge and some local made products using Ironbark Ridge products. Area is continually being cleared for further expansion. Along with the increased plantings, Ironbark Ridge has established a recreational area. These areas provide much enjoyment for the visitors as they can appreciate the beautiful surrounding scenery and native wildlife.
478 Middle Road, Purga, Queensland.
Welgan Estate Wines
Mail orders only (no cellar door).
At present we are only releasing our wines via shows, markets and by mail.
Welgan Estate Wines is situated at Anthony which is an area between Harrisville and Kalbar in the Scenic Rim.
We are a very young vineyard with Shiraz and Verdelho now producing and Alicante Bouchet and Vermentino in the near future.
Our vineyard symbol is the Rainbow. It is quite common to see a rainbow over the vineyard after rain. Maybe this is the reflection of the dreamtime Rainbow Serpent which may have made the north-south slope and water course at the bottom of the vineyard.
At the 2013 Boonah show, Welgan Estate Wines won the "most successful exhibitor" prize in the wine section.
56 Brook Rd, Anthony, Qld 4310.